The eagle has no fear of adversity. We need to be like the eagle and have a fearless spirit of a conqueror!

Joyce Meyer
Joshua Rucker: The Younger Years
Joshua Rucker grew up in Warren, a suburb of Detroit, Michigan. Warren is a blue collar city with a hard working mentality. Like most kids who grew up in Warren, Joshua learned how to be a tough kid. He loved sports and excelled at football. He played linebacker and played the game how it should be played, like a man possessed. Joshua had a vision to use football to move forward in life, to better his circumstances.
Warren is a solid place to grow up, but the city has been getting tougher due to its proximity to Detroit. Kids that grow up there know the value of a dollar and also how to be survivors. This is not an indictment of Warren, but rather insight into how Joshua Rucker survived the harrowing experience he was about to endure.
The Accident
As a senior in high school, Joshua was looking forward to his next years playing football. He didn't much care for academics and was self admittedly "not a good student." As fate would have it, Joshua got into a fist fight one day, and during the midst of it, punched the assistant principal. He was facing expulsion and he decided to just drop out instead. He got a job as a heating and cooling tech. On September 17, 2002, Joshua's life was about to change drastically. He and his cousin were driving to Lansing to do service calls for the day in their work van. At 9:00 a.m. things went very wrong for these two young men.
Joshua was driving and his cousin was sleeping. The rear tire on the drivers side blew at 70 mph and the 50 gallon drum of water and 2 drums of acid in the van shifted to his side. He shook his cousin and said "we have problems." Just then the axle ripped off the van and it started to spin down the expressway. The last thing Joshua remembers is the van flipping so that the windshield was facing the expressway. The van flipped 14 times in total and when paramedics arrived, Joshua was pronounced dead at the scene. He was revived and rushed to the ER. He awoke from a coma 2 weeks later, paralyzed, and with a TBI (traumatic brain injury). He said "my Mom said I awoke two weeks later, but I honestly don't remember those 2 months."
The Aftermath
Having endured horrific injuries, doctors gave his parent's a bleak outlook on his chances for survival. That is the only reason the above picture was taken, in case it was the last time his Mother would see him. He had shattered his T-9 and T-10 vertebrae, and fractured T-11 and T-12. His spinal chord was severed at a 45 degree angle. He had surgery to use parts of his hip to fuse his spine after the extensive damage. That surgery would come back to cause him problems later.
He had to learn how to eat and talk again, working extensively with a speech language pathologist. He had a breathing machine attached and was on a tube feeding. He remembered that he talked really strangely and it pissed him off. "Am I going to talk like the the rest of my life?" he recalled. He was working his way back to health physically, but his psyche was shattered. He was very bitter and felt like a victim. He asked himself the same question many do who befall such tragedy, "Why me?"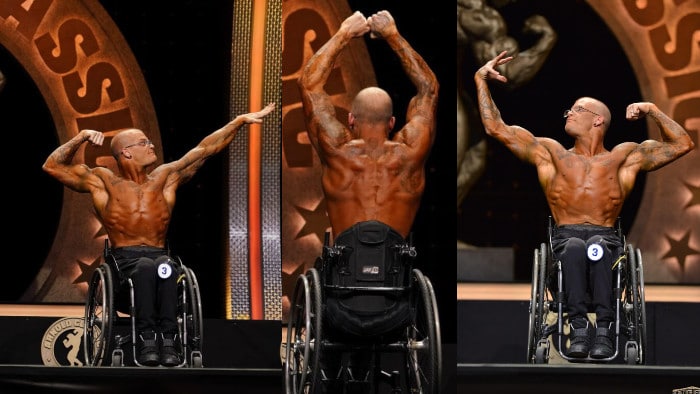 The Long Road Back
It has to be shocking to hear that you will never walk again, that you will never have kids, that you will never function the same. Joshua and the nurses had a love hate relationship. He was angry so he would rebel, he would act out, he said he was basically "a jerk." He told the nurses the only way he would cooperate with them is if his Mom could sleep in his hospital room. So once his Mom was there, he started to make real progress.
She told him point blank "There is nothing that is going to change this so you need to accept this and adjust to the future life you will live. He said his Mom was and still is his number one motivation in life. He said "I decided what is more important? Doing nothing or connecting with people. So at this point, the new Joshua Rucker was born. We like to call him "RuckDawg!"
The Next Phase
Wheelchair basketball was Joshua's savior. He decided to pursue it after his Mom exposed him to the idea. Due to his tenacity and his athletic background, Joshua said he was "a bitch" when it came to hoop. He excelled immediately and moved to San Antonio, Texas to play on a team that was sponsored by the Spurs. He paid for his apartment, but they covered his utilities and his his travel expenses for games and tournaments. He then learned that there were 9 legitimate NCAA wheelchair basketball teams in the nation. He went to community college to get his grades up, and then applied to Oklahoma State University.
He was accepted and played there for a season, but he hated losing so he transferred to the University of Texas-Arlington. He played basketball until he graduated with his B.S. Social Work. He tried out 2 times for Team USA, but didn't make it either time. He had another unfortunate turn of events again regarding his health. He had been on antibiotics due to chronic bladder infections. When he came off of them, the staph infection spread rapidly. He became very ill and decided to go back to U of M, where he trusted the doctors. His life was once again about to take a huge change of direction.
Paul Shulte, a professional player for the Dallas Mavericks Wheelchair Basketball team, leads the pack as Joshua Rucker, a college player from University of Texas-Arlington, chases after him.
Life Change
Joshua had lived like most college kids, he partied and he ate a diet like NFL players diet that was typical of a college student. Doctors at U of M told him he really needed to take care of his health more. He decided to clean up his diet, start doing more exercise and calisthenics. Before he knew it, "he was shredded, ab's, veins, and everything" he said. As afte would have it, Joshua ran into Nick Scott, the founder of wheelchair bodybuilding. Nick was impressed by Joshua's physique, and tol him to give bodybuilding a try.
He hired a coach Renne Toney, a professional bodybuilder from Brazil. She got him into crazy shape for a few shows and then he placed second in a pro qualifier and was awarded his IFBB Pro Card. RuckDawg had finally found the passion of his life. He competed in a pro show and got in really good shape and he placed 4th in the 2013 IFBB Houston Pro Show. He hasn't competed since because he is busy doing appearances and spreading inspiration wherever he goes.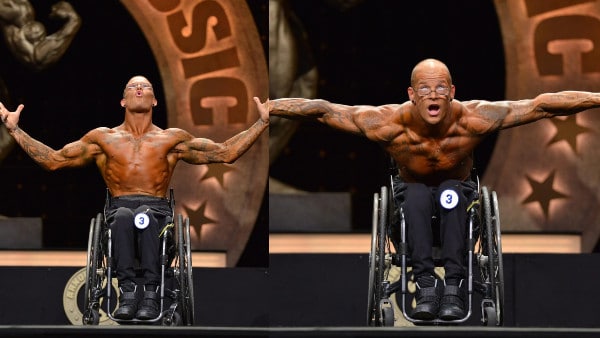 Meeting Joshua
To say I have led a blessed life would be an understatement. It has never been an easy life, but it certainly has been blessed by all the wonderful people I have met along the way. Joshua Rucker is one such person. I had seen Joshua numerous times at our gym; Powerhouse Gym Clinton Township, Michigan. I was a trainer there before I worked for Mind and Muscle. I had been there since 2009 and I was always busy with clients and pretty focused on my work, so I am not a huge chit chat type of guy.
I had watched Joshua from afar and admired his effort and dedication to the sport. He literally outworks 95% of all people. One day, I was training Dr. Todd Lee and Logan Carlson, and Joshua came into the gym. Todd is a social butterfly so they were talking and we all just clicked. We took a few pictures and then chatted a minute. I knew I had made a friend for life that day. I am a ballsy guy with a ton of drive, and he made me feel humble. He is the kindest, most encouraging guy you would ever meet. He truly is a warrior, with the spirit of a lion.
RuckDawg: Spirit Warrior
The first thing you notice around Joshua is his absolute can do spirit. This guy goes through more physical challenges every single day than 99.9% of people. He makes me aspire to be a better person. I have a lot of aches and pains from years of pounding my body. So if I catch myself feeling badly, I just stop and think "What would Joshua do?" Well, I know he wouldn't feel sorry for himself. I just suck it up and deal with my discomfort. Joshua has overcome a lot of obstacles and he has a "will do" attitude.
Read more about the best legal steroids if you want to build bulky muscles safely and naturally: